Why Partner With Us?
Are you frustrated because your teams spend a tremendous amount of time getting nowhere?  Are your clients upset about not receiving a deliverable on time?  Have your customers given you an unsatisfactory rating for teamwork or time management? Do you have employees that do a good job, but you believe they are capable of performing better?  Maybe you have teams that go through the motions to get work done, but they lack cohesiveness or are not achieving your organization's expected results.
Teams are an essential component of any successful organization, whether they are designing something new, problem solving, project planning, making improvements, trying to make a decision or conducting annual planning.  Just because you have a team in place, even if the members are technically skilled, there is no guarantee of beneficial results.
Whether you have a new team, an existing team that may be struggling, or need enhanced cross-functional collaboration, we can help you and your organization achieve new heights by empowering your employees to improve performance in a positive way.  How do we do this?  By partnering with you to understand your current structure and goals, strengthen your leadership team, improve your employees' interpersonal skills and assist with enriched management styles.
The first step of empowerment is self-awareness.  Our research-based, scientifically-proven work preference tool, entitled "Team Management Profile"® with immediate and private web-based access and applications, provides individuals with invaluable insights into their specific work preferences.
This personalized profile information is vital for effective growth and will help improve team processes and overall  performance, resulting in improved job satisfaction, enhanced engagement and increased motivation.
Team Management Profile
The Team Management Profile (TMP)® is an extremely powerful, researched-based, scientifically-proven tool and is the gateway toward improved effectiveness.
As you can see from the model below, the TMP® identifies eight core work functions that are measured and defined by the Types of Work Profile Questionnaire.  Brief descriptions of these functions are:
Advising - Gathering and reporting information
Innovating - Creating and experimenting with ideas
Promoting - Exploring and presenting opportunities
Developing - Assessing and testing the applicability of new approaches
Organizing - Establishing and implementing ways of making things work
Producing - Concluding and delivering outputs
Inspecting - Controlling and auditing the working of systems
Maintaining - Upholding and safeguarding standards and processes
Margerison-McCann Types of Work Wheel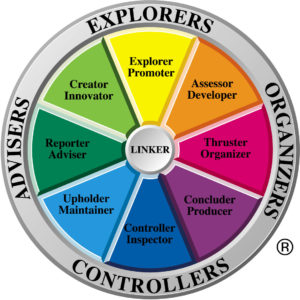 The Team Management Profile highlights an individual's major and related areas of work preference, focused on:
Work Preferences
Leadership Strengths
Team Building
Decision Making
Interpersonal Skills
Management Style
The Team Management Profile® is completely web-based and includes apps available to support development in the work place. This tool allows the individual continued access to their report, as well as on-going access to their Online Activity Center.  The Online Activity Center apps can be used over and over as organizational challenges and opportunities arise.
Learn About Our Services
Intrigued?  Find out how we can help you add value to your organization by learning about your unique challenges and designing a customized solution. We offer organizational development services and dynamic workshops that engage learners and create sustainable change.